September 25, 2019
---
A lesson from 45 years ago…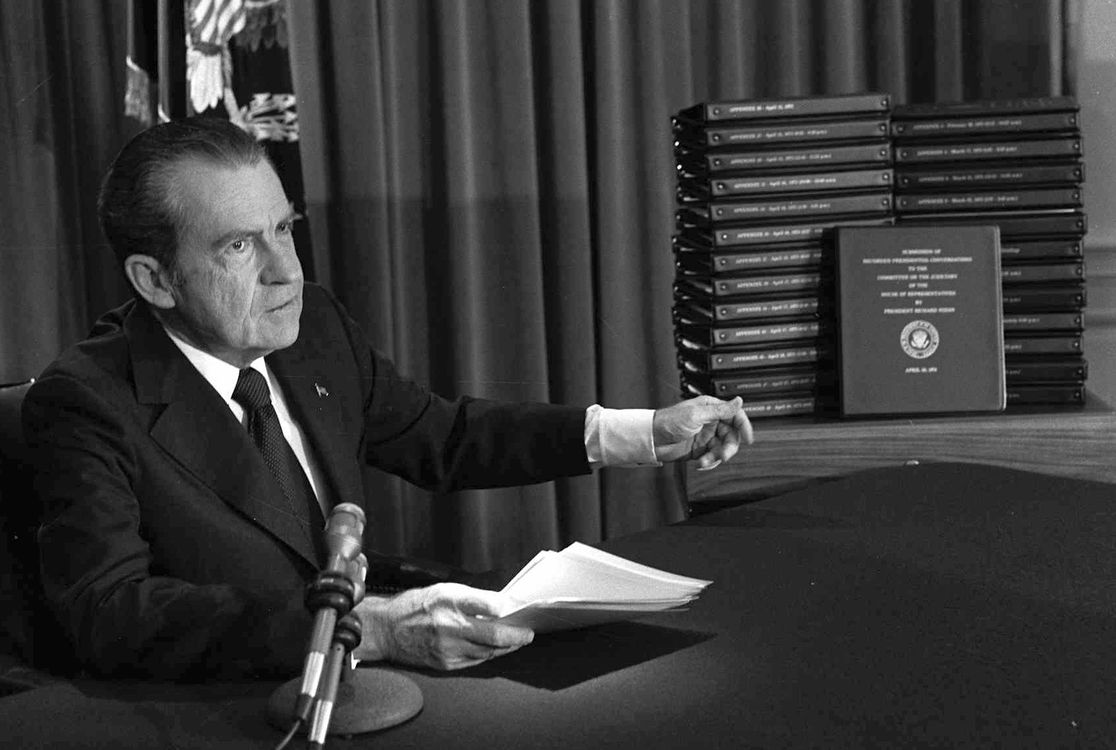 On April 29, 1974, President Richard M. Nixon points to the transcripts of the White House tapes after he announced during a nationally-televised speech that he would turn over the transcripts to House impeachment investigators. Photo: AP
"As a junior aide in President Richard Nixon's White House, I saw congressional oversight and investigation command immensely greater power and respect than it does today," Jonathan C. Rose — special assistant to Nixon from 1971 to 1973, and associate deputy attorney general from 1973 to 1975 — writes in The Atlantic.
"As evidence implicating the White House mounted, the administration displayed no inclination toward negotiation or accommodation with the Senate Watergate Committee. On March 15, 1973, Nixon issued an edict asserting executive privilege, declaring that White House aides and papers were entirely off limits to the committee. If the committee desired to press the issue, the president said, it could pursue a contempt prosecution through the courts.
"Pressed for his reaction, [Senate Watergate Committee Chairman Sam] Ervin said Nixon's position was 'executive poppycock, akin to the divine right of kings.' Ervin declared that his committee had no intention of submitting to the suggested judicial delays, but would instead utilize the Senate's sergeant at arms to arrest any recalcitrant White House aide, bring him to the bar of the Senate for trial, and ultimately compel him to testify.
"As damaging revelations continued to mount and the stigma of cover-up gathered strength, the White House floated trial balloons, offering the Watergate Committee possible closed-door interviews with White House aides. …
"By mid-April 1973, Nixon's resistance to testimony by White House aides had collapsed, and a number of them testified. This testimony disclosed the White House taping system and confirmed the existence of  tapes. Those disclosures ultimately led to Nixon's departure from office."
-AXIOS