March 23, 2021
We are wounded and wounding. Boulder is a tender, special community. Hands will reach and hearts will connect. So sorry. Grace. -dayle
Denny Strong, 20
Neven Stanisic, 23
Rikki Olds, 25
Tralona Bartkowiak, 49
Suzanne Fountain, 59
Teri Leiker, 51
Eric Talley, 51
Kevin Mahoney, 61
Lynn Murray, 62
Jody Waters, 65
#BoulderColorado
#EndGunViolence
#GunReformNow
#ForThePeopleAct
From Naropa University
"The hearts of Naropa University go out to the victims of the local shooting in Boulder, CO. Naropa will continue to offer support to our students and staff in the wake of this collective trauma."
Dear Naropa Community,

Our hearts go out to the victims of the local shooting in Boulder this afternoon. While we do know that there were multiple fatalities, including one police officer, many details remain unknown as local, state, and federal officials are currently conducting their investigation. As the events unfolded, Naropa University enacted a coordinated communication effort, including emails to the campus community, text messages, website updates, and social media posts.

Even before the specifics are shared by the City of Boulder, what is clear is that the Boulder community has experienced a collective trauma which will require access to counseling services, peer to peer support and taking the time to care for ourselves and each other with compassion.

We will maintain our class schedule tomorrow so that students have opportunities to share in smaller groups with classmates. Our trusted faculty will certainly be very mindful of the pain and poignancy of the day and provide space to process the range of thoughts, feelings and emotions that will continue to arise. We will offer whatever flexibility is needed by any individual who need to process in ways other than classroom attendance.

We have reached out to our residential community and will continue to offer support to our students through our counselors and advisors.  Please feel free to utilize our Students of Concern email address (studentconcerns@naropa.edu ) if you encounter a student who could use some additional outreach and support.  Counseling Services is available to meet with students remotely by contacting their office at 303-245-4630 or email at studentcounselingcen@naropa.edu . Virtual drop-in hours will be available from noon-3:00 p.m.

We are also working to offer opportunities for staff, faculty and students to connect with support.  Right now, Joy Redstone has offered to facilitate a time for staff to gather by zoom from 10:30 am to noon tomorrow. The link is https://naropa.zoom.us/j/5549680256.

Judy Lief will offer a drop-in time for anyone in the community from 9:30 to 10:30 am. The link is https://us02web.zoom.us/j/3663361210  and the passcode is 3yanas .

I and any available Cabinet members will also facilitate a Zoom gathering from 1-2 pm for anyone who wishes to join in community. That link is https://naropa.zoom.us/j/99564296531 .

We are receiving other offerings which will be announced as they are confirmed.

I greatly appreciate the very prompt and caring way in which staff and faculty related with this tragedy.  These efforts are for the benefit of us all. At the same time, I know that it is a natural tendency in the face of trauma to fill the space with activities that are for the benefit of others, but can unintentionally repress the direct experience of our own thoughts and feelings. I hope that we will all take the time for personal healing, which is so important.

Please take care and don't hesitate to seek support from our community.

With Gratitude to you all,

Chuck Lief

President

The Guardian

'We don't live in a safe world': Boulder in shock and disbelief over shooting

A mourner visits the King Sooper's grocery store where a deadly shooting occurred in Boulder, Colorado, on 23 March. Photograph: Chet Strange/Getty Images
Following the shooting in a Boulder, Colorado, grocery store on Monday, leaving 10 dead including a police officer, the community of this liberal mountain town are in a state of shock and disbelief, experiencing the all-too-common identity crisis experienced by so many American cities in the wake of a mass shooting.
"I've called this community home for most of my life, and I've shopped at that King Soopers many times," Colorado's governor, Jared Polis, said on Tuesday morning during a press conference.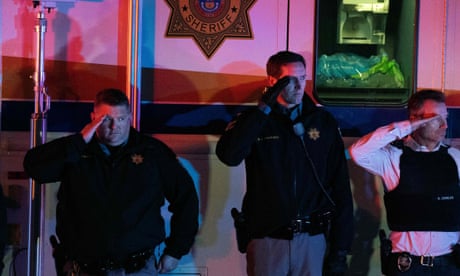 "Boulder is a small community, and we're all looking at the list wondering if we know people. These were folks who started their day with a morning paper, cup of coffee, perhaps getting their kids ready, maybe making last-minute spring break plans, none of them expected that this would be their last day here, on the planet. A simple run for milk and eggs led to a complete tragedy."
A 2019 analysis by the Denver Post found that, per capita, Colorado has more mass shootings than all but four states. But despite a recent anti-mask riot by college students, Boulder was considered by many as a safe oasis for middle- and upper-class liberals.
"Many of the shootings across the country have been in places people would like to think are safe, but when these tragedies hit close to home it threatens your feeling of safety," said Jamie Beachy, directory of the Center for Contemplative Chaplaincy at Naropa University, in Boulder. "For some people, this will be very destabilizing for some time to come. We don't live in a safe world when it comes to gun violence, and Boulder is not set apart from that."
https://www.theguardian.com/us-news/2021/mar/23/boulder-shooting-community-reaction?utm_term=Autofeed&CMP=twt_gu&utm_medium&utm_source=Twitter#Echobox=1616533664
August 16, 2015
…always finding the light.
"Take everything that's bright and beautiful in you and introduce it to the shadow side of yourself… When you are able to say, 'I am … my shadow as well as my light,' the shadow's power is put in service of the good."
'In 1974, the Tibetan Buddhist teacher and Oxford alumnus Chögyam Trungpa founded Naropa University in Boulder, Colorado — a most unusual and emboldening not-for-profit educational institution named after the eleventh-century Indian Buddhist sage Naropa and intended as a 100-year experiment of combining the best methodologies of Western scholarship with the most timeless tenets of Eastern wisdom, fusing academic and experiential learning with contemplative practice. Under the auspices of its Jack Kerouac School of Disembodied Poetics, founded by Allen Ginsberg, the university hosted a number of lectures and readings by such luminaries as John Cage, William S. Burroughs, and Jack Kerouac himself, for all of whom Buddhism was a major influence.
In 2015, Naropa University awarded its first-ever honorary degree of Doctor of Contemplative Education to author, educator, and Center for Courage & Renewalfounder Parker Palmer — one of the most luminous and hope-giving minds of our time, whose beautiful writings on inner wholeness and the art of letting your soul speak spring from a spirit of embodied poetics. In May of 2015, he took the podium before the university's graduating class and delivered one of the greatest commencement addresses of all time — a beam of shimmering wisdom illuminating the six pillars of a meaningful human existence, experience-tested and honestly earned in the course of a long life fully lived.
Annotated highlights below — please enjoy.'