December 31, 2021
She isn't letting us go gently as she finally releases her grip. Colorado. ♡ -dayle
From Marianne Williamson:
"I embrace each moment as an opportunity for a miracle. 
Infinite opportunity is built into the nature of the universe.
It is not lack of opportunities, but rather the ways I have sabotaged them, that has obstructed the flow of miracles into my life." 
December 31, 2021
A Revelation of Heaven on Earth
"We return today to CAC teacher Brian McLaren, who illustrates how one of the Bible's most challenging books—Revelation—can be a source of wisdom and hope for us today:
There's a beautiful visionary scene at the end of the Book of Revelation that is as relevant today as it was in the first century. It doesn't picture us being evacuated from Earth to heaven as many assume. It pictures a New Jerusalem descending from heaven to Earth [see Revelation, chapter 21]. This new city doesn't need a temple because God's presence is felt everywhere. It doesn't need sun or moon because the light of Christ illuminates it from within. Its gates are never shut, and it welcomes people from around the world to receive the treasures it offers and bring the treasures they can offer. From the center of the city, from God's own throne, a river flows—a river of life or aliveness. Along its banks grows the Tree of Life. All of this, of course, evokes the original creation story and echoes God's own words in Revelation: "Behold! I'm making all things new!"
Rather than giving its original readers and hearers a coded blueprint of the future, Revelation gave them visionary insight into their present situation. It told them that the story of God's work in history has never been about escaping Earth and going up to heaven. It has always been about God descending to dwell among us. . . . God wasn't a distant, terrifying monster waiting for vengeance at the end of the universe. God was descending among us here and now, making the tree of true aliveness available for all.
Earlier in the year, Richard shared the shocking hopefulness of the Bible's apocalyptic literature:
God puts us in a world of passing things where everything changes and nothing remains the same.
The only thing that doesn't change is change itself. It's a hard lesson to learn. It helps us appreciate that everything is a gift. We didn't create it. We don't deserve it. It will not last, but while we breathe it in, we can enjoy it, and know that it is another moment of God, another moment of life.
People who take this moment seriously take every moment seriously, and those are the people who are ready for heaven.
Brian offers this final encouragement:
What was true for Revelation's original audience is true for us today. Whatever madman is in power, whatever chaos is breaking out, whatever danger threatens, the river of life is flowing now. The Tree of Life is bearing fruit now. True aliveness is available now. That's why Revelation ends with the sound of a single word echoing through the universe. That word is not Wait! Nor is it Not Yet!or Someday! It is a word of invitation, welcome, reception, hospitality, and possibility. It is a word not of ending, but of new beginning. That one word is Come! The Spirit says it to us. We echo it back. Together with the Spirit, we say it to everyone who is willing. Come!"
-Brian McLaren
-Father Richard Rohr
~
'We've been studying war for centuries, we must now study how to create peace…conditions for a deep and lasting peace.' -Brian McLaren
Plan for U.S. Department of Peace
Ending the scourge of violence in the United States and across the planet requires more than suppressing violence. Lasting peace requires its active and systematized cultivation at every level of government and society. The U.S. Department of Peace will coordinate and spur the efforts we need to make our country and the world a safer place. Nothing short of broad-scale investment and government reorientation can truly turn things around.
Both domestically and internationally, we must dramatically ramp up the use of proven powers of peace-building, including dialogue, mediation, conflict resolution, economic and social development, restorative justice, public health approaches to violence prevention, trauma-informed systems of care, social and emotional learning in schools, and many others.
"I believe our country's way of dealing with security issues is increasingly obsolete. We have the finest military force in the world, however we can no longer rely on force alone to rid ourselves of international enemies. The planet has become too small for that, and in so doing, we overburden our military by asking them to compensate for the other work that we choose not to do. We are less effective, and less secure, because of that," said Williamson.
As its mission, the U.S. Department of Peace will; hold peace as an organizing principle; promote justice and democratic principles to expand human rights; coordinate restorative justice programs; address white supremacy; strengthen nonmilitary means of peacemaking; work to prevent armed conflict; address the epidemic of gun violence; develop new structures of nonviolent dispute resolution; and proactively and systematically promote national and international conflict prevention, mediation, and resolution. In short, we must wage peace. "Large groups of desperate people," said Williamson, "should be seen as a national security risk."
The Department will create and establish a Peace Academy, modeled after the military service academies, which will provide a 4-year concentration in peace education. Graduates will be required to serve 5 years in public service in programs dedicated to domestic or international nonviolent conflict resolution.
The Secretary of Peace will serve as a member of the National Security Council and will be empowered to coordinate with all Cabinet agencies – including the Departments of Agriculture, Defense, Education, Justice, and State, and the new Department of Children and Youth. 
In 2022, let's pledge to making this our reality. -dayle
Lokah Samastah Sukhino Bhavantu
May all beings be happy.
May all beings be free from disease.
May auspiciousness be seen everywhere.
May suffering belong to no one.
Peace
Shanti~Shanti~Shanti
April 2, 2021
F
I
N
A
L
S U R R E N D E R.
❀
January 21, 2021
"Just now starting to realize the emotional toll, the psychic weight we have carried, what it does to the spirit to hold your breath for this long."
---
Newspapers this morning from around the country, January 21st, 2021.
---
President Biden and First Lady Dr. Jill Biden watch fireworks from the balcony of their new home last night.
Photo: Tom Brenner/Reuters
---
January 16, 2021
Washington National Cathedral is hosting a new art exhibit showcasing thousands of paper doves suspended from the Cathedral's vaulted, 100-foot-high ceiling through May 2021. The "Les Colombes" exhibit is by German artist Michael Pendry, who has created similar works at Cathedrals around the world, and symbolizes the Biblical theme of hope and optimism heading into the new year after a very challenging 2020.
Every moment and every event of every woman's life on earth plants something in her soul. -Thomas Merton [changes to gender, mine.]
More from Merton:
Prayer is freedom and affirmation growing out of nothingness into love. It is the elevation of our limited freedom into the infinite freedom of the divine spirit and of the divine love. Prayer is an emergence into this area of infinite freedom.
~
Keep your eyes clean your ears quiet and your mind serene. Breathe Gaia's air. Work, if you can, under her sky.
---
Dear Friends,
I've always called myself a lover of language and of the limits of language. But this week I take no pleasure in how tongue-tied I feel, standing before the disarray and fragility of our life together. It's hard to put words out into the world right now for so many reasons. That they're not big enough. That they never tell the whole truth. That we live in a moment so on edge and reactive that someone will take offense, or be wounded by my words, and that feels harder than ever before to risk and to bear.
There is an insanity to our life together right now that is directly related to the tenuous hold on sanity so many of us feel after surviving this past year.  
That does not justify hatred or violence.
It does mean that we're called to be as gentle with ourselves and others as we can possibly, reasonably muster. That sounds like such a modest contribution to the tumult all around and on our screens, but it is not.
I keep coming back in memory, and feeling in my body, to my experience of election night 2020. I observed it as someone who sees our political life together as a reflection of the human condition in all its complexity, contradiction, and mess. But I was also watching as a person who grew up in one of the "reddest" states, who now lives in one of the "bluest." I felt a panicked sadness — this has remained my primary emotion through everything that has followed — as the cameras zoomed in and out on those maps of our country.
I saw visually what I know in life as it is lived: those maps marked up with definitive reds and blues don't tell the truth of our alienation and its unsustainable intimacy. The fractures that actually define our nation right now do not run state to state or county to county, but neighborhood to neighborhood, family to family. They run through our dreams for our children on every side. They run through our hearts, and through our lives.
I am so grateful to have received, as I was struggling to write this, an email from Whitney Kimball Coe of the Rural Assembly and the Center for Rural Strategies. There is a whole epic story of our time in what is being gathered and created in the world she's part of. It is in no way described or contained in a red-blue demographic lens of the "urban-rural divide." She gave me permission to share this part of her email with you:
"I'm at home nursing my youngest, Susannah, who had a scary fall on Monday night and is now recuperating from surgery. She's going to be fine, but my goodness, 2021 came in hard. Stream of consciousness moment:You know, our hospital experience put us directly in the path of so many wonderful East Tennesseans. Nurses and technicians and doctors, the other parents waiting in the ER, the parking attendant, the security guard. I'm sure many of them didn't vote as I did in the last election and probably believe the events of Jan 6 were mere protests, but they responded to our trauma with their full humanity. I'd forgotten what it feels like to really see people beyond their tribe/ideology. It broke something open in me. I've been living in a castle of isolation these many months and it's rotted and blotted my insides. I'm aware of contempt, anger, and maybe even paranoia coursing through my veins, and I wonder if that's just a snippet of where we are as a nation.
Why is our righteous indignation and disgust so much easier to flame than our compassion?
It makes me realize that there is no substitute for coming into the presence of one another. No meme nor Twitter post nor op-ed nor breaking news nor TED talk can soften and strengthen our hearts like actually tending to one another. We don't have to ignore/excuse the darkness we all carry, but we have to keep showing up so we don't lose ourselves to bitterness."
We cannot conjure up something so aspirational as "unity" by wishing it, and we are in fact impoverished when it comes to "common ground" between our societal trenches. 
But if I've heard one thing most insistently, with an infinite variety of circumstance and struggle, from absolutely every beautiful and wise human I've ever met, it is this: We are creatures made, again and again, by what would break us. Yet only if we open to the fullness of the reality of what goes wrong for us, and walk ourselves with and through it, are we able to integrate it into a new kind of wholeness on the other side.
Our collective need for a new kind of wholeness might be the only aspiration we can share across all of our chasms right now.
Longings, too, can be common ground. A shared desire not to be lost to bitterness. A clear-eyed commitment that what divides us now does not have to define what can become possible between us. Questions, honestly asked, about how to make that real.
-Krista
[Krista Tippett is a Peabody Award-winning broadcaster, a National Humanities Medalist, a New York Times bestselling author, and founder of On Being.]
January 9, 2021
Martin Luther King asked us this question in 1967, not long before his assassination. After witnessing January 6th, we ask again. We are in a pivotal moment, again, in this country, and now, exacerbating the civil unrest, is a radicalized population with instantaneous virtual connection and unmitigated amounts of disinformation and conspiracy. For those engaged in the disinformation exchange, these are not theories, it is reality.
Social media platforms are suspending, and they're too late.
Whistleblower Christopher Wylie (think Cambridge Analytica and pink hair):
Platforms like Facebook have been responsible for digitally segregating Americans for years. To move forward, we need to apply de-segregation principles to social media. That starts with regulating Facebook's underlying digital architecture and design.
Truly, though, does anyone see them doing this anytime soon? No. Profit and power is their mantra.
A recommended read essay from author, and Yale history professor Timothy Snyder. His book, On Tyranny [2017], needs to be on your bookshelf.
Here's the link to his essay published today in The New York Times Magazine.
https://www.nytimes.com/2021/01/09/magazine/trump-coup.html?smid=tw-share
Post-truth is pre-fascism, and Trump has been our post-truth president. When we give up on truth, we concede power to those with the wealth and charisma to create spectacle in its place. Without agreement about some basic facts, citizens cannot form the civil society that would allow them to defend themselves. If we lose the institutions that produce facts that are pertinent to us, then we tend to wallow in attractive abstractions and fictions. Truth defends itself particularly poorly when there is not very much of it around, and the era of Trump — like the era of Vladimir Putin in Russia — is one of the decline of local news. Social media is no substitute: It supercharges the mental habits by which we seek emotional stimulation and comfort, which means losing the distinction between what feels true and what actually is true.

[…]

My own view is that greater knowledge of the past, fascist or otherwise, allows us to notice and conceptualize elements of the present that we might otherwise disregard and to think more broadly about future possibilities. It was clear to me in October that Trump's behavior presaged a coup, and I said so in print; this is not because the present repeats the past, but because the past enlightens the present.
Thanks to technological capacity and personal talent, Donald Trump lied at a pace perhaps unmatched by any other leader in history.

[…]

When Senator Ted Cruz announced his intention to challenge the Electoral College vote, he invoked the Compromise of 1877, which resolved the presidential election of 1876. Commentators pointed out that this was no relevant precedent, since back then there really were serious voter irregularities and there really was a stalemate in Congress. For African-Americans, however, the seemingly gratuitous reference led somewhere else. The Compromise of 1877 — in which Rutherford B. Hayes would have the presidency, provided that he withdrew federal power from the South — was the very arrangement whereby African-Americans were driven from voting booths for the better part of a century. It was effectively the end of Reconstruction, the beginning of segregation, legal discrimination and Jim Crow. It is the original sin of American history in the post-slavery era, our closest brush with fascism so far.

If the reference seemed distant when Ted Cruz and 10 senatorial colleagues released their statement on Jan. 2, it was brought very close four days later, when Confederate flags were paraded through the Capitol.
W.E.B. Du Boise, 1st edition, 1935, Beinecke Library:
The lie outlasts the liar. The idea that Germany lost the First World War in 1918 because of a Jewish "stab in the back" was 15 years old when Hitler came to power. How will Trump's myth of victimhood function in American life 15 years from now? And to whose benefit?
[…]
If Trump remains present in American political life, he will surely repeat his big lie incessantly.
[…]
America will not survive the big lie just because a liar is separated from power. It will need a thoughtful repluralization of media and a commitment to facts as a public good.
From journalist Maria Ressa:
What happened Jan 6 in the US is a logical consequence of the radicalization, the "seeding & spread of conspiracy theories enabled by social media. It's time to demand accountability. (Facebook is a behavior modification system.)"
Washington Post
A radicalized Air Force vet, Obama supporter, "and after years of personal travails, Ashli Babbitt believed she had found a cause that gave her life purpose. Within hours, that cause would bring her life to a violent end."
https://www.washingtonpost.com/dc-md-va/2021/01/09/ashli-babbitt-capitol-shooting-trump-qanon/
ProPublica:
'Some far-right activists are already calling for retribution over the death of Ashli Babbitt. "We're not putting up with this tyrannical rule. We will return on Jan 19th, carrying our weapons in numbers that no standing army or police agency can match."
https://www.propublica.org/article/several-well-known-hate-groups-identified-at-capitol-riot
From Jane Mayer at The New Yorker:
Bobby Pickles, a purveyor of far-right T-shirts, joined the horde of balding dudes in dad jeans at the Capitol, because Donald Trump, he says, is "like punk rock."

He explained that after his father died, in 2015, he sought out new male camaraderie. The Proud Boys filled a vacuum. He claims to have joined not because they are a hate group (as designated by the Southern Poverty Law Center) but because "they were seeking something." He said, "I came to the realization that Trump was awesome, and that I had been brainwashed." From right-wing podcasts and YouTube, he said, he has learned that "the pandemic is a scam," and that "we live in an inverted dictatorship run by the Deep State and globalists."

"We couldn't really see the President, we were listening on our phones & when we heard him say, 'Go to the Capitol,' we all were, like, 'Yeah!' So directed, Pickles & his group began marching. "Things are escalating. I hate to see what happens next."
https://www.newyorker.com/magazine/2021/01/18/a-palm-beach-proud-boy-at-the-putsch
The Guardian
From Sadiq Khan, the mayor of London:
The storming of the Capitol in Washington is a wake-up call for states around the world, writes the mayor of London

he events at the Capitol building in Washington were shocking, but sadly not that surprising. Yes, President Donald Trump incited a fascist mob to try to violently overthrow the legitimate outcome of a democratic election – but this was the tragic yet inevitable consequence of the far-right movement the president has built and fostered over the last five years.

Trump pitted his own citizens against each other. He preyed on genuine economic suffering. He lied to stoke fear of those who are different. He denied basic scientific facts about Covid-19 and refused to act to save lives and jobs. He separated children from their parents. He used people's religion as a reason to ban them from coming to the US. He gave equivalence to far-right racists and anti-racist protesters. He denigrated women and denied many the right to choose what they do with their body.

And he also undermined and delegitimised the fundamental pillars of democracy – equality under the law, the freedom of the press, an independent judicial system and, ultimately, even elections themselves.

ragically, the warnings were deliberately ignored by too many supposedly mainstream politicians, commentators and observers around the world, including here in the UK. Some greedily eyed an opportunity for their own advancement, which they valued more than the long-term health of democracy. Others were simply too scared of the consequences of doing the right thing and challenging the ugly new populist and nativist political movements that Trump spawned.

Donald Trump's defeat is not the end of his brand of far-right politics. More than 74 million voted for him in November. Viktor Orbán in Hungary, Jair Bolsonaro in Brazil, Recep Tayyip Erdoğan in Turkey, Matteo Salvini in Italy, Andrzej Duda in Poland and others are from the same mould. As are a growing group on the fringes of the Brexit movement.

People on both the left and right must show no hesitation in challenging racism and discrimination, be fearless in speaking up to protect all minority groups while promoting equality and focus relentlessly on tackling the economic inequalities and lack of opportunities that create a fertile breeding ground for the far-right – challenges that will only get harder after the pandemic.

We should tell truly inclusive patriotic stories about our national identity that show the genuine diversity of both our history and modern societies. And we need to be clear that compromising with those on the other side of the political aisle is not always a bad thing. Sometimes it is essential for the health of democracy.
Full piece:
https://www.theguardian.com/commentisfree/2021/jan/09/many-said-trumps-presidency-would-end-this-way-but-the-warnings-were-ignored
Love is Everywhere banners placed in Downtown Boise, Idaho.
The Guardian also published an opinion piece by Daniel Ellsberg. It's important read, especially if Donald Trump is allowed to stay in office prior to Joe Biden's inauguration.
"I will always regret that I did not do more to stop war with Vietnam. Now, I am calling on whistleblowers to step up and expose Trump's plans."

Daniel Ellsberg was the whistleblower who leaked the Pentagon Papers, which revealed the US government had lied to the American public about the Vietnam war.

resident Trump's incitement of criminal mob violence and occupation of the Capitol makes clear there is no limitation whatever on the abuse of power he may commit in the next two weeks he remains in office. Outrageous as his incendiary performance was on Wednesday, I fear he may incite something far more dangerous in the next few days: his long-desired war with Iran.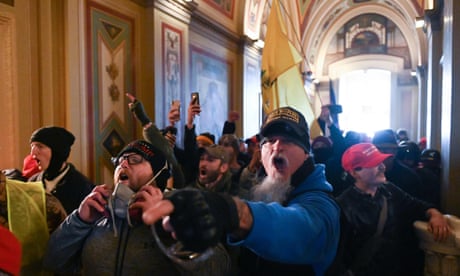 Fears mount that Trump's final 13 days in office pose a security threat
Could he possibly be so delusional as to imagine that such a war would be in the interests of the nation or region or even his own short-term interests? His behavior and evident state of mind this week and over the last two months answers that question.

The dispatch this week of B-52's nonstop round-trip from North Dakota to the Iranian coast – the fourth such flight in seven weeks, one at year's end – along with his build-up of US forces in the area, is a warning not only to Iran but to us.

In mid-November, as these flights began, the president had to be dissuaded at the highest levels from directing an unprovoked attack on Iran nuclear facilities. But an attack "provoked" by Iran (or by militias in Iraq aligned with Iran) was not ruled out.
[…]
I have little doubt that such contingency planning, directed by the Oval Office, for provoking, if necessary, an excuse for attacking Iran while this administration is still in office exists right now, in safes and computers in the Pentagon, CIA and the White House. That means there are officials in those agencies – perhaps one sitting at my old desk in the Pentagon – who have seen on their secure computer screens highly classified recommendations exactly like the McNaughton and Bundy memos that came across my desk in September 1964.
[…]
I am urging courageous whistleblowing today, this week, not months or years from now, after bombs have begun falling. It could be the most patriotic act of a lifetime.
https://www.theguardian.com/commentisfree/2021/jan/08/donald-trump-war-iran-tehran-daniel-ellsberg
In memoriam.
USA Today
Brian D. Sicknick, 42, the youngest of three sons, was from South River, New Jersey. He graduated in 1997 from Middlesex County Technical Vocational High School and joined the New Jersey Air National Guard that year.

Sicknick deployed to Saudi Arabia in 1999 in support of Operation Southern Watch. After the 9/11 terrorist attacks, he served in Kyrgyzstan in support of the war in Afghanistan. While stateside, Sicknick served in the 108th Air Refueling Wing out of Joint Base McGuire-Dix-Lakehurst in New Jersey, his brother, Ken Sicknick, said.

He was honorably discharged in 2003, according to Lt. Col. Barbara Brown, a spokeswoman for the New Jersey National Guard.

Sicknick "wanted to be a police officer his entire life," Ken Sicknick said. He "served his country honorably" and made his family "very proud," Sicknicksaid. "Brian is a hero and that is what we would like people to remember."

Sicknick died "due to injuries sustained while on duty," U.S. Capitol Police said in a statement. On Wednesday, he "was injured while physically engaging with protesters," police said. He returned to his division office and collapsed, then was taken to a local hospital where he died around 9:30 p.m. Thursday.

Sicknick was hit in the head with a fire extinguisher, according to two law enforcement officials who spoke to the Associated Press.
The murder investigation begins.
Five people lost their lives, countless others were injured, all directly related to January 6th, 2021.
January 2, 2021
We need to focus and fix all three.
From Eric Holthaus:
Original art for The Phoenix is by Laila Arêde.
Our time here on this beautiful planet is so temporary.
If there's anything that 2020 taught us, it's that while time is fleeting for everyone,
it's the way society is structured
that determines how fleeting it is, and for whom. The overlapping tragedies of Covid-19, police brutality, and the climate emergency don't fall equally on everyone, and
it's up to us to change that system
to ensure everyone here gets the chance to thrive that they deserve.
That's the heart of climate justice.
Our window for revolutionary repair of our planet's atmosphere and biosphere – caused by centuries of excesses brought by capitalism, patriarchy, misogyny, imperialism, and racism – is bound by physics. We can (and should!) argue about the best ways to get to a zero-carbon world as quickly as possible, but we can't argue with the fact that current global policies will deliver a planet that's incompatible with a safe future for billions of people who did the least to cause the climate emergency.
This is what we're fighting for: Indigenous sovereignty, regenerative care of the land, shelter, equity, joy. All the basics that people need to live a good life. A vision for a bread and roses future for everyone.
Getting started with that journey isn't hard.
The point is only that you show up.
We need everyone to be a part of this transformation in their own way.
At the same time, becoming a Climate Person isn't easy. But it's some of the most important work in the history of the world. You don't get to give up, but you do get to ask for help.
If living your best life includes making the world more life-sustaining for every creature we share this beautiful planet with, the rest of this post will help you get started.
Meteorologist and climate journalist Eric Holthaus describes himself as "a meteorologist who strives to foster understanding of humanity's connection to the atmosphere." Here he delivers a monologue on climate change and his mission to remind everyone that we are all in this fight together. Eric wants to change the narrative of climate change from being "one of inevitable disaster to one of possibility."
---
Author Allysha Lavino and a thought for 2021:
And what do we want to bring with us?
Courage? 
Wisdom?
Tenacity? 
This is the year we feather our nests – it's time to take care of ourSelves, our families, our communities, and our environments.
❀
Kindness is like snow. 
It beautifies everything it covers.
-Khalil Gibran
December 30, 2020
'I regret nothing.' Edith Piaf
From Alexandra Stoddard, as we ready for another journey around the sun:
'Ive learned a great deal this year. I feel it has been productive and also enjoyable day to day. What a wonderful thought to live our lives with as few regrets as possible.
What kind of year did you have? How would you rate it? No matter how many challenges you've had, no matter what pain you've endured, did you do your very best? 
Then have no regrets.'
Alexandra wrote these words in 1993.
peace
December 27, 2020
I think of empathy as a series of concentric circles. Some people can feel empathy only for their immediate circle: family and friends. Some go out to the next circle: neighbors. Others go to more advanced levels. But couldn't we all benefit from leaping to the next circle out?
-Walter Shaub, former director of the United States Office of Government Ethics
December 10, 2020
Pantone, the color bible, announced that the Color of the Year 2021 combines Ultimate Gray + Illuminating — a mood of "strength and hopefulness."
Vanessa Friedman, the N.Y. Times chief fashion critic, had the perfect translation: : "light at the end of the tunnel."
[AXIOS]