September 25, 2019
---
A lesson from 45 years ago…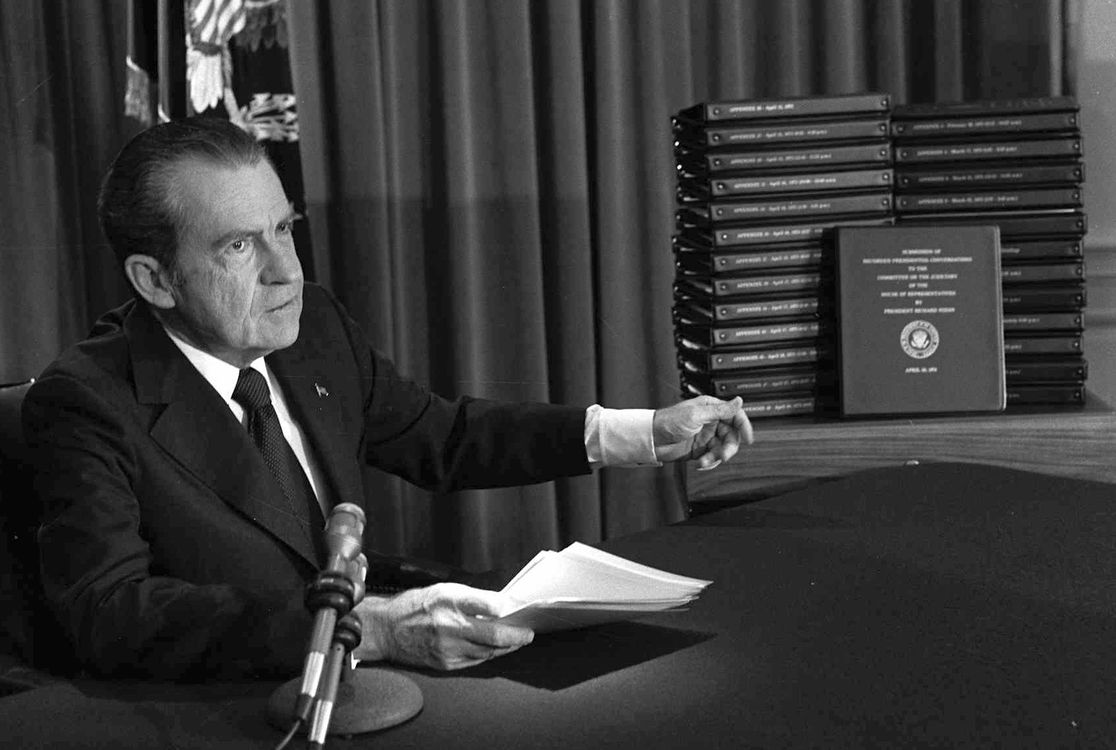 On April 29, 1974, President Richard M. Nixon points to the transcripts of the White House tapes after he announced during a nationally-televised speech that he would turn over the transcripts to House impeachment investigators. Photo: AP
"As a junior aide in President Richard Nixon's White House, I saw congressional oversight and investigation command immensely greater power and respect than it does today," Jonathan C. Rose — special assistant to Nixon from 1971 to 1973, and associate deputy attorney general from 1973 to 1975 — writes in The Atlantic.
"As evidence implicating the White House mounted, the administration displayed no inclination toward negotiation or accommodation with the Senate Watergate Committee. On March 15, 1973, Nixon issued an edict asserting executive privilege, declaring that White House aides and papers were entirely off limits to the committee. If the committee desired to press the issue, the president said, it could pursue a contempt prosecution through the courts.
"Pressed for his reaction, [Senate Watergate Committee Chairman Sam] Ervin said Nixon's position was 'executive poppycock, akin to the divine right of kings.' Ervin declared that his committee had no intention of submitting to the suggested judicial delays, but would instead utilize the Senate's sergeant at arms to arrest any recalcitrant White House aide, bring him to the bar of the Senate for trial, and ultimately compel him to testify.
"As damaging revelations continued to mount and the stigma of cover-up gathered strength, the White House floated trial balloons, offering the Watergate Committee possible closed-door interviews with White House aides. …
"By mid-April 1973, Nixon's resistance to testimony by White House aides had collapsed, and a number of them testified. This testimony disclosed the White House taping system and confirmed the existence of  tapes. Those disclosures ultimately led to Nixon's departure from office."
-AXIOS
June 1, 2019
'We are no longer innocent; but we must make every effort to become primitive so that we can begin again each time, and from our hearts. We must become springtime people in order to find the summer, whose greatness we must herald.'

-Rilke, Early Journals
The Atlantic
To Save the Church, Dismantle the Priesthood
Catholics must death themselves from the clerical hierarchy, and take the faith back into their own hands.
James Carroll
As James Joyce wrote in Finnegans Wake, Catholic means "Here Comes Everybody."
[excerpt]
Replacing the diseased model of the Church with something healthy may involve, for a time, intentional absence from services or life on the margins—less in the pews than in the rearmost shadows. But it will always involve deliberate performance of the works of mercy: feeding the hungry, caring for the poor, visiting the sick, striving for justice. These can be today's chosen forms of the faith. It will involve, for many, unauthorized expressions of prayer and worship—egalitarian, authentic, ecumenical; having nothing to do with diocesan borders, parish boundaries, or the sacrament of holy orders. That may be especially true in so-called intentional communities that lift up the leadership of women. These already exist, everywhere. No matter who presides at whatever form the altar takes, such adaptations of Eucharistic observance return to the theological essence of the sacrament. Christ is experienced not through the officiant but through the faith of the whole community. "For where two or three are gathered in my name," Jesus said, "there am I in the midst of them."
[…]
In what way, one might ask, can such institutional detachment square with actual Catholic identity? Through devotions and prayers and rituals that perpetuate the Catholic tradition in diverse forms, undertaken by a wide range of commonsensical believers, all insisting on the Catholic character of what they are doing. Their ranks would include ad hoc organizers of priestless parishes; parents who band together for the sake of the religious instruction of youngsters; social activists who take on injustice in the name of Jesus; and even social-media wizards launching, say, #ChurchResist. As ever, the Church's principal organizing event will be the communal experience of the Mass, the structure of which—reading the Word, breaking the bread—will remain universal; it will not need to be celebrated by a member of some sacerdotal caste. The gradual ascendance of lay leaders in the Church is in any case becoming a fact of life, driven by shortages of personnel and expertise. Now is the time to make this ascendance intentional, and to accelerate it. The pillars of Catholicism—gatherings around the book and the bread; traditional prayers and songs; retreats centered on the wisdom of the saints; an understanding of life as a form of discipleship—will be unshaken.
[…]
The future will come at us invisibly, frame by frame, as it always does—comprehensible only when run together and projected retrospectively at some distant moment. But it is coming. One hundred years from now, there will be a Catholic Church. Count on it. If, down through the ages, it was appropriate for the Church to take on the political structures of the broader culture—imperial Rome, feudal Europe—then why shouldn't Catholicism now absorb the ethos and form of liberal democracy? This may not be inevitable, but it is more than possible. The Church I foresee will be governed by laypeople, although the verb govern may apply less than serve. There will be leaders who gather communities in worship, and because the tradition is rich, striking chords deep in human history, such sacramental enablers may well be known as priests. They will include women and married people. They will be ontologically equal to everyone else. They will not owe fealty to a feudal superior. Catholic schools and universities will continue to submit faith to reason—and vice versa. Catholic hospitals will be a crucial part of the global health-care infrastructure. Catholic religious orders of men and women, some voluntarily celibate, will continue to protect and enshrine the varieties of contemplative practice and the social Gospel. Jesuits and Dominicans, Benedictines and Franciscans, the Catholic Worker Movement and other communities of liberation theology—all of these will survive in as yet unimagined forms. The Church will be fully alive at the local level, even if the faith is practiced more in living rooms than in basilicas. And the Church will still have a worldwide reach, with some kind of organizing center, perhaps even in Rome for old times' sake. But that center will be protected from Catholic triumphalism by being openly engaged with other Christian denominations. This imagined Church of the future will have more in common with ancient tradition than the pope-idolizing Catholicism of modernity ever did. And as all of this implies, clericalism will be long dead. Instead of destroying a Catholic's love of the Church, the vantage of internal exile can reinforce it—making the essence of the faith more apparent than ever.
What remains of the connection to Jesus once the organizational apparatus disappears? That is what I asked myself in the summer before I resigned from the priesthood all those years ago—a summer spent at a Benedictine monastery on a hill between Jerusalem and Bethlehem. I came to realize that the question answers itself. The Church, whatever else it may be, is not the organizational apparatus. It is a community of memory, keeping alive the story of Jesus Christ. The Church is an in-the-flesh connection to him—or it is nothing. The Church is the fellowship of those who follow him, of those who seek to imitate him—a fellowship, to repeat the earliest words ever used about us, of "those that loved him at the first and did not let go of their affection for him."
https://www.theatlantic.com/magazine/archive/2019/06/to-save-the-church-dismantle-the-priesthood/588073/
The Atlantic
'On the morning after yet another terrible, preventable crime, the world looks bleak. For those in mourning, that bleakness will never end. Yet over the horizon, hope is glimmering. Those who have imposed this nightmare on the country are weakening. Those who reject the cult of the gun are rising. Tomorrow will be better.
The political map of the country is changing.
Groups such as Shannon Watts's Moms Demand Action are winning actual election victories for women who have lost loved ones to gun violence.
On the morning after yet another terrible, preventable crime, the world looks bleak. For those in mourning, that bleakness will never end.
Too many guns.
Too little hope.
After each succeeding gun massacre, a dull fatalism grips the American mind. The victims of such massacres are counted in the thousands; the victims of individual murder, of suicide, and of heartrending accident by now are counted in the tens of thousands. Yet action to save lives is vetoed again and again by an implacable minority who see gun ownership as integral to their identity.'
[Full article: https://www.theatlantic.com/ideas/archive/2019/06/even-after-virginia-beach-shootings-hope-looms/590857/?utm_campaign=the-atlantic&utm_content=edit-promo&utm_term=2019-06-01T13%3A50%3A29&utm_source=twitter&utm_medium=social
[Photo: A law enforcement official stands at an entrance to a municipal building that was the scene of a shooting, Saturday, June 1, 2019, in Virginia Beach, Va. A longtime city employee opened fire at the building Friday before police shot and killed him, authorities said. AP Photo/Patrick Semansky]
---
@Everytown
'Everytown for Gun Safety is a movement of Americans working together to end gun violence and build safer communities.'
Shannon Watts / Moms Demand Action:
'Every nation is home to angry, disgruntled and unstable people – online and offline. Only America gives them easy access to arsenals, silencers, high capacity magazines and bulk ammo.
Virginia has no law restricting large capacity ammunition magazines and silencers are legal. According to a researcher at Boston University, "Whether a state has a large capacity ammunition magazine ban is the single best predictor of the mass shooting rates in that state."'
---
The latest mass shooting victims in the United States, Friday, May 31st in Virginia Beach.
Virginia Beach Victims: Names, Photos & Tributes
April 27, 2019
The humanitarian crisis is in the White House.
DT's Second Term
Paul Starr
So far, much of the concern about the long-term effects of DT's presidency has centered on his antidemocratic tendencies. But even if we take those off the table—even if we assume that Trump continues to be hemmed in by other parts of the government and by outside institutions, and that he governs no more effectively than he has until now—the impact of a second term would be more lasting than that of the first.
[…]
Three areas—climate change, the risk of a renewed global arms race, and control of the Supreme Court—illustrate the historic significance of the 2020 election. The first two problems will become much harder to address as time goes on. The third one stands to remake our constitutional democracy and undermine the capacity for future change.
[…]
In short, the biggest difference between electing Trump in 2016 and reelecting DT in 2020 would be irreversibility.
[…]
Democracy is always a gamble, but ordinarily the stakes involve short-term wins and losses. Much more hangs in the balance next year.
[…]
The choice Americans face in 2020 is one we will not get to make again. What remains to be seen is whether voters will grasp the stakes before them. In 2016, Hillary Clinton's emails absorbed more media and public attention than any other issue. In 2018, DT tried to focus attention on a ragtag caravan of a few thousand Central Americans approaching the southern border. That effort failed, but the master of distraction will be back at it next year. If we cannot focus on what matters, we may sleepwalk into a truly perilous future.
[Full article: https://www.theatlantic.com/magazine/archive/2019/05/trump-2020-second-term/585994/]
"Humanity has come to a fork in the road. There is a way marked Love and there is a way marked Fear, each path leading tumor of the same…in our finest hours, America has stood for what humanity at our best aspires to be. We have sometimes succeeded and sometimes failed, but today, in our time, it is ours to decide our path as we move forward. lady Liberty's torch is in our hands, but only we can determine whether it burns within our hearts."
-Marianne Williamson, A Politics of Love
Marianne spoke in Las Vegas last night. I recommend beginning at 50:15 for her introduction video. Forward to 1:20:00 for her Q&A to hear the depth of her issues, wisdom, compassion, and her connection with "We the People." (1:24:00 is beautiful.)
https://livestream.com/accounts/11464019/events/8656602/videos/190529602
"A truth teller, a seeker, a mother, and a learned woman in this scary and strange new world, her voice is at once strong medicine for our roundedness, warmth, insistence, good humor, and a little light to see by."

-Author Anne Lamott
Author. Lecturer. Activist. Democratic Presidential Candidate.
♡
'My campaign for the presidency is dedicated to this search, for wisdom of the heart is too often absent from the political sphere.
Together we can reclaim both our democratic principles and the angels of our better selves, expressed not just in our personal lives but on acts of citizenship as well.
Politics should not be a pursuit disconnected from the heart; it should be, as everything should be, an expression of the heart. Where fear has been harnessed for political purposes, let's now harness the power of love.
It is time to let go of an old and tired political conversation, and forge a new, whole-person, heart-centered political dynamic.'
~
From Marianne on Saturday, April 27th: "We're under 8,000 left to go! So we're totally getting there. Please do everything you can to get even the smallest donations to get us onto the DNC debate stage."
[Only$1-$5 donations needed for a singular/unique donation.]
---
Kindness
Before you know what kindness really is
you must lose things,
feel the future dissolve in a moment
like salt in a weakened broth.
What you held in your hand,
what you counted and carefully saved,
all this must go so you know
how desolate the landscape can be
between the regions of kindness.
How you ride and ride
thinking the bus will never stop,
the passengers eating maize and chicken
will stare out the window forever.
Before you learn the tender gravity of kindness,
you must travel where the Indian in a white poncho
lies dead by the side of the road.
You must see how this could be you,
how he too was someone
who journeyed through the night with plans
and the simple breath that kept him alive.
Before you know kindness as the deepest thing inside,
you must know sorrow as the other deepest thing.
You must wake up with sorrow.
You must speak to it till your voice
catches the thread of all sorrows
and you see the size of the cloth.
Then it is only kindness that makes sense anymore,
only kindness that ties your shoes
and sends you out into the day to mail letters and purchase bread,
only kindness that raises its head
from the crowd of the world to say
It is I you have been looking for,
and then goes with you everywhere
like a shadow or a friend.
October 12, 2018
The Atlantic.
A social inheritance based on the U.S.'s extraordinary wealth.
America is the richest civilization in history. Why, then, are our living standards so low compared to those of other wealthy democracies?
Why the U.S. Should Provide Universal Basic Income
Video by
The Atlantic
America is the richest civilization in history. Why, then, are our living standards so low compared to those of other wealthy democracies?
"There's a big idea out there that could help solve this," says The Atlantic writer Annie Lowrey. "It's called a universal basic income." In a new animated video, Lowrey argues that UBI—a concept that has existed for more than 500 years—would help close the income inequality gap, eliminating poverty and increasing mobility and opportunity for all American citizens.
Read more about UBI in Lowrey's new book, Give People Money: How a Universal Basic Income Would End Poverty, Revolutionize Work, and Remake the World.
September 21, 2018
Cover to cover The Atlantic's October issue is essential reading from some of the most varied minds in our country today. They were  invited to explore the premise of democracy's demise. Topics include autocracy, tribalism, James Madison's 'Madisonian mob factions', tyranny, and America's courts by writers Anne Applebaum, Supreme Court Justice Stephen Breyer, Jeff Rosen, David Frum, Amy Chua, and others. The links are pinned below.
A note from The Atlantic:
Though these ills can be seen most plainly in the style and behavior of a growing number of political leaders worldwide, their sources run deeper than that. The aim of this package is to diagnose their serenity and root causes. 

Some of these causes are universal; some are unique to the United States. The essays are grouped to reflect this distinction, and then to consider solutions.

Sprinkled throughout are brief warnings about risks to democracy from The Atlantic's archives–some prescient, some misplaced, and many all too relevant today.
These are some of the headlines, stories, and links.
Losing the Democratic Habit
Yoni Appelbaum
Americans once learned self-governance by practicing it constantly–in lodge halls, neighborhood associations, and labor unions. As participation in these institutions had dwindled, so had public faith in democracy. To restore it, we must return democratic practices to everyday life.
https://www.theatlantic.com/magazine/archive/2018/10/losing-the-democratic-habit/568336/
The Threat of Tribalism
Amy Chua & Red Rubenfeld
The constitution once united a diverse country under a banner of ideas. But partisanship has turned Americans against one another–and against the principles enshrined in our founding document.
https://www.theatlantic.com/magazine/archive/2018/10/losing-the-democratic-habit/568336/
Madison vs. The Mob
Jeffrey Rosen
The founders designed a government that would be insulted from the heat of popular sentiment, but they didn't anticipate the unbridled passions of the digital age. Here's how the constitutional order can survive.
https://www.theatlantic.com/magazine/archive/2018/10/james-madison-mob-rule/568351/
America's Courts Can't Ignore the World
Supreme Court Justice Stephen Breyer
The U.S. Constitution is an American document. And American law should look exclusively to American precedents. Right? Not so, a supreme Court Justice says. That approach sounds good in theory, but the laws of other countries have a bearing on our own–and the highest court in the land needs to take heed.
https://www.theatlantic.com/magazine/archive/2018/10/james-madison-mob-rule/568351/
Building an Autocracy
David Frum
Will American democracy survive DT? And will the midterms matter?
https://www.theatlantic.com/magazine/archive/2018/10/building-an-autocracy/568282/
—
Link to The Atlantic October issue:
https://www.theatlantic.com/magazine/toc/2018/10/
April 14, 2018
The Decemberists' Shiny, Happy Protest Album
"There's something therapeutic in looking at the apocalypse and laughing," Colin Meloy says of the band's I'll Be Your Girl.
Spencer Kornhaber
[Excerpt from interview with The Decembrists' Colin Meloy in The Atlantic]
Kornhaber: I saw you called the album an "apocalyptic dance party," which feels like a term that could describe a lot of albums lately.
Meloy: We're having a very shared experience. It's almost galvanizing, people coming out of the woodwork and saying, "Shit is fucked up." There's something therapeutic in looking at the apocalypse and laughing.
I was hearing a story about that incident in Hawaii when a false missile alert came down. There were a couple guys on a golf course whose phones went off at the same time, and they went through how much time they had, where they could go, what they could actually accomplish. And they came to the conclusion that the best thing they could do is continue playing golf. There was nothing else they could do. That, in some ways, is a shared experience in this country right now.
Kornhaber: That story sounds like a future Decemberists song topic. But there's a capitulation in it, right?
Meloy: Obviously the golfers in Hawaii is not analogous to our current predicament. It is a thought experiment: The apocalypse is 10 minutes away; what really can you do? If you want to talk literally, I don't think we are in that dire circumstances. Responding to that intuition to shout out that things are broken is some way forward. We're not leading the charge, but it feels good to lend our voices to that ever-growing chorus of people who are saying, This is not right.
Kornhaber: How much do you want this read as a Trump album?
Meloy: I don't think I set out to make an overtly topical or political record. The songs just came from where we were and where my head was at in the last year and a half. I didn't want to go too over-the-top. For one thing, I don't know that I feel like the white straight-male voice is really the voice that needs to be amplified right now, or necessarily be the one singing protest music. There is powerful and topical music to be made by those communities who are oppressed. I don't think it's necessarily my place. That said, you can't help but have some of that stuff just come through the cracks as you're working.
Full article:
https://www.theatlantic.com/entertainment/archive/2018/03/the-decemberists-shiny-happy-protest-album/555533/
December 4, 2017
Mohammed Mohiedin Anis, 70, smokes his pipe as he sits in his destroyed bedroom, listening to music on his hand-cranked gramophone in Aleppo's formerly rebel-held al-Shaar neighborhood in Syria.
Anis had recently returned to Aleppo, with plans to rebuild not only his home, but also his large collection of vintage American cars, despite everything being reduced to rubble. When reporters asked him about the gramophone, he responded, "I will play it for you, but first I have to light my pipe. Because I never listen to music without it."
[Photo #19 on The Atlantic's top 25 photos of 2017.]
https://www.theatlantic.com/photo/2017/12/top-25-news-photos-of-2017/547373/?utm_source=nl-atlantic-photo-120417&silverid=NDA5MjcxMTc3Nzc4S0
November 4, 2017
The Atlantic
by, Ta-Nehisi Coates
On Monday, (was this only Monday?) the retired four-star general and White House Chief of Staff John Kelly asserted that "the lack of an ability to compromise led to the Civil War." This was an incredibly stupid thing to say. Worse, it built on a long tradition of endorsing stupidity in hopes of making Americans stupid about their own history. Stupid enjoys an unfortunate place in the highest ranks of American government these days. And while one cannot immediately affect this fact, one can choose to not hear stupid things and quietly nod along.
[…]
1) Battle Cry Of Freedom: Arguably among the greatest single-volume histories in all of American historiography, James McPherson's synthesis of the Civil War is a stunning achievement. Brisk in pace. A big-ass book that reads like a much slimmer one. The first few hundred pages offer a catalogue of evidence, making it clear not just that the white South went to war for the right to own people, but that it warred for the right to expand the right to own people. Read this book. You will immediately be less stupid than some of the most powerful people in the West Wing.
2) Grant: Another classic in the Ron Chernow oeuvre. Again, eminently readable but thick with import. It does not shy away from Grant's personal flaws, but shows him to be a man constantly struggling to live up to his own standard of personal and moral courage. It corrects nearly a half-century of stupidity inflicted upon America by the Dunning school of historians, which preferred a portrait of Grant as a bumbling, corrupt butcher of men. Finally, it reframes the Civil War away from the overrated Virginia campaigns and shows us that when the West was won, so was the war. Grant hits like a Mack truck of knowledge. Stupid doesn't stand a chance.
3) Reading the Man: A Portrait of Robert E. Lee: Elizabeth Pryor's biography of Lee, through Lee's own words, helps part with a lot of stupid out there about Lee—chiefly that he was, somehow, "anti-slavery." It dispenses with the boatload of stupid out there which hails the military genius of Lee while ignoring the world that all of that genius was actually trying to build.
4.) Out of the House of Bondage: A slim volume that dispenses with the notion that there was a such thing as "good," "domestic," or "matronly" slavery. The historian Thavolia Glymph focuses on the relationships between black enslaved women and the white women who took them as property. She picks apart the stupid idea that white mistresses were somehow less violent and less exploitative than their male peers. Glymph has no need of Scarlett O'Haras. "Used the rod" is the quote that still sticks with me. An important point here—stupid ideas about ladyhood and the soft feminine hand meant nothing when measured against the fact of a slave society. Slavery was the monster that made monsters of its masters. Compromising with it was morally bankrupt—and stupid.
5.) The Life and Times of Frederick Douglass: The final of three autobiographies written by the famed abolitionist, and my personal favorite. Epic and sweeping in scope. The chapter depicting the bounty of food on which the enslavers feasted while the enslaved nearly starved is just devastating.
---
The Atlantic
Jon Batiste Reinterprets 'Battle Hymn of the Republic' for The Atlantic
Julia Ward Howe first published her iconic poem in The Atlantic in 1862. The song quickly became an anthem of the Civil War and a touchstone of the American Idea. In that spirit, The Atlantic asked renowned jazz musician Jon Batiste to create a new arrangement of the song for the magazine's first podcast, Radio Atlantic.
October 3, 2017
[Scott Simon/Peabody Award-winning reporter & host of NPR's Weekend Edition.]
Today I was researching various websites and periodicals about surviving mass shootings so that I could put some suggestions together for my kids (23 & 21) to consider when they gather in public spaces with larger groups. And then I paused. I realized in that moment what what our country has become for me. Because of the power of the NRA, gun lobbyists, and political greed, guns are more important in the United States than the lives of its people. I heard one television news pundit say in the aftermath of Las Vegas that 'mass shootings are the price of freedom.'
A most twisted definition of freedom, indeed.
Watching a cable news TV program the day after the massacre, well-known more liberal minded anchors were doing their reporting, standing, situated outside on the Las Vegas strip with the Mandalay Bay hotel/casino positioned behind them. I felt a fear rising within me as I watched them. Not because they were in the Las Vegas aftermath, but because they were exposed, vulnerable, unprotected to the crazed minds who disagree, haters who carry guns in an 'open carry' environment. When did this happen? A fear of simply being outside, in a public place, could cause concern for others being harmed, shot, or killed?  -dayle
Veteran journalist Tom Brokaw told the TODAY show anchors Monday morning that in the years he reported for the program from 1976-1981, he covered just one mass shooting. With the Las Vegas massacre now the deadliest mass shooting in U.S. history, he suggests the more frequent attacks are a result of radical gun sale changes. "No other Western nation has the number of gun deaths that we have in America, and we need to talk about it."
-Cortney O'Brien/Townhall
Two Dark American Truths From Las Vegas
(On the certainty of more shootings.)
by James Follows
The Atlantic
No other society allows the massacres to keep happening. Everyone around the world knows this about the United States. It is the worst aspect of the American national identity.
[full article]
https://www.theatlantic.com/politics/archive/2017/10/two-dark-american-truths-from-las-vegas/541692/?utm_source=twb

Mass Shootings Don't Lead to Inaction – – They lead to loosening Gun Restrictions
The most probable policy response to the atrocity in Las Vegas will be new laws allowing more guns to be carried into more places.
by David Frum
The Atlantic
The five years since a gunman killed 26 at Sandy Hook Elementary School in Newtown, Connecticut, have seen one of the most intense bursts of gun legislation in U.S. history—almost all of it intended to ensure that more guns can be carried into more places.
Since Newtown, more than two dozen states have expanded the right to carry into previously unknown places: bars, churches, schools, college campuses, and so on. The most ambitious of these laws was adopted in Georgia in April 2014. Among other provisions, it allowed guns to be carried into airports right up to the federal TSA checkpoint.
[full article]
https://www.theatlantic.com/amp/article/541905/
AXIOS: Peggy Noonan, Wall Street Journal columnist and speechwriter for President Reagan, on "Morning Joe": "There is a sense that society is collapsing — the culture is collapsing. We're collapsing in crime. The world is collapsing. Crazy people with bad haircuts have nukes. Everything is going bad — terrorism, etc. They want to be fully armed on their hill, at home. … They're Americans, and they want to go down fighting."
N.Y. Times columnist Thomas Friedman: "If only Stephen Paddock had been a Muslim … If only he had shouted 'Allahu akbar' before he opened fire … [N]o one would be telling us not to dishonor the victims and "politicize" Paddock's mass murder by talking about preventive remedies. No, no, no. Then we know what we'd be doing. We'd be scheduling immediate hearings in Congress about the worst domestic terrorism event since 9/11."
https://www.axios.com/axios-am-2492652648.html…
[Vince Gill & Amy Grant pray during a candlelight vigil in Nashville for the victims of the Las Vegas massacre.]
by Roseanne Cash
NYTIMES
For the past few decades, the National Rifle Association has increasingly nurtured an alliance with country music artists and their fans. You can see it in "N.R.A. Country," which promotes the artists who support the philosophical, and perhaps economic, thrall of the N.R.A., with the pernicious tag line "Celebrate the Lifestyle."
[…]
I encourage more artists in country and American roots music to end your silence. It is no longer enough to separate yourself quietly. The laws the N.R.A. would pass are a threat to you, your fans, and to the concerts and festivals we enjoy.
The stakes are too high to not disavow collusion with the N.R.A. Pull apart the threads of patriotism and lax gun laws that it has so subtly and maliciously intertwined. They are not the same.
I know you'll be bullied for speaking out. This is how they operate. Not everyone will like you for taking a stand. Let it roll off your back. Some people may burn your records or ask for refunds for tickets to your concerts. Whatever. Find the strength of moral conviction, even if it comes with a price tag, which it will. Don't let them bully you into silence. That's where their power lies — in the silence of rational voices and in the apathy of those who can speak truth to power.
This is a moment in American history that can't be met with silence. According to PolitiFact, from 2005 to 2015, some 300,000 people were killed by gun violence. That's roughly the population of Pittsburgh. The grief that extends through the affected families is endless.
Those of us who make our living in "the tower of song," as Leonard Cohen so eloquently put it, must let our voices ring out.
[full article]
https://www.nytimes.com/2017/10/03/opinion/rosanne-cash-country-musicians-nra.html?smid=tw-share&_r=0We Can't Survive In a State of Constant Agitation
We can't survive in a constant state of agitation.
On Being
by Sharon Salzberg
When a change in law or policy harms us, we may feel powerless and discarded, unworthy of love. Experiencing that helps us empathize with the suffering of others. We may feel heartbroken when we see people so battered by circumstances and lack of opportunity that they feel that they have nowhere to turn. And we may feel a deep love for the planet, and recent actions to discredit climate change might be the cause of our anxiety.
In that way love presents itself as risk, as it often does when you love another. The love you feel causes you to care deeply and when you do, you may take on some of the hurt that your beloved feels. Love can also protect you. It is love that is the point of contact for how much we care about what happens to ourselves as well as those around us.
Finding common ground with others who share our values and taking collective actions that express those strongly held beliefs reminds us of the good in the world and the good in others. If we allow the bad news to be the only news we hear, we may give up the fight, which would be the most debilitating of all actions. The best way to stay engaged is to make a choice when and how to do so — and to do so from a balanced stance of love for ourselves and love for the world, at the nexus where we can draw those two together in actions that connect both.
[full article]
https://onbeing.org/blog/sharon-salzberg-we-cant-survive-in-a-state-of-constant-agitation/
︶⁀°• •° ⁀︶
Character intersects history.
-Jon Meecham
The presidency doesn't change who you are, it amplifies who you are.
-Michelle Obama
July 28, 2017
https://www.theatlantic.com/amp/article/535215/
David G. Bradley, the chairman and owner of Atlantic Media, is announcing this morning that he is selling a majority stake in The Atlantic to Emerson Collective, an organization led by philanthropist and investor Laurene Powell Jobs. Bradley will retain a minority stake in The Atlantic and will continue as chairman and operating partner for at least three to five years. In a letter to his staff, Bradley wrote that Emerson Collective will most likely assume full ownership of The Atlantic within five years.
Bradley, who bought The Atlantic in 1999 for $10 million from Mortimer Zuckerman, is credited with transforming the Boston-based monthly magazine of politics, arts, and letters into a profitable digital-journalism and live-events company of global reach, even while continuing to publish The Atlantic's award-winning print magazine, which was born four years before the Civil War. "Against the odds, The Atlantic is prospering," Bradley wrote in his memo. "While I will stay at the helm some years, the most consequential decision of my career now is behind me: Who next will take stewardship of this 160-year-old national treasure? To me, the answer, in the form of Laurene, feels incomparably right."
[…]
In his statement, Bradley said that Powell Jobs will most likely visit the Washington and New York offices of The Atlantic in September. Bradley closed his note to the staff by saying, "What I loved about Laurene from the first is that her confidence was forged on a different coast." He added, "And, if anything, her ambition is greater than my own." Making reference to the generally bleak commercial forecast for journalism in the United States, he wrote, "Let's make it our work to prove the wisdom of our era wrong. And when my time comes to leave, that would be a happy note on which to say 'good-bye.'"
︶⁀°• •° ⁀︶
In one soul, in your soul, there are resources for the world.
emersoncollective.com
Our Mission
We are an organization dedicated to removing barriers to opportunity so people can live to their full potential. Established and led by Laurene Powell Jobs, we center our work on education, immigration reform, the environment, and other social justice initiatives. We use a wide range of tools and strategies—partnering with entrepreneurs and experts, parents and policymakers, advocates and administrators—to develop and execute innovative solutions that will spur change and promote equality.
A LETTER FROM LAURENE POWELL JOBS
With those startling words, Ralph Waldo Emerson enlarged our conception of the value of a human life. I read his simple declaration about the reach of human capability as a statement of fact:  there really is within each of us the potential to improve the world around us. But Emerson's line is not only a description, it is also an imperative: while all of us possess this transformative potential, too many of us don't get the chance to fulfill it — which means that we all have work to do.
At Emerson Collective, this is what drives us every day. If we've helped someone transcend the limits of circumstance and chart a new course for themselves and their families, we know we're fulfilling our mission. Like our namesake, we believe deeply in self-reliance; but we recognize that the road to self-reliance sometimes leads through reliance on others. We trust that hard work and determination can make anything possible, but opportunities for hard work and determination must be found and even created.
For people trapped in the quagmire of poverty and disenfranchisement, a strong will to overcome the odds is rarely sufficient to beat them.  For the 22 percent of children born into poor neighborhoods in the U.S., hard work will not likely be enough to overcome the obstacles they will face, including those that remain invisible to outsiders. For students in challenging environments—where schools are chronically short of funds, where advanced classes in high school are non-existent, where expectations are often low and mentors are few—force of will alone cannot ensure a college education and a bright future. And for families forced into the shadows by a dysfunctional immigration system, perseverance cannot secure legal status and equal rights.
Qualities of character, in other words, must be supplemented and supported by policies and inspirations. These lives, these communities, are gardens of promise, but they need water in order to flourish.
Many years ago, I visited a nearby high school where students were working to defy the odds and do something very difficult: to become the first in their families to earn a college degree. They had the same dreams and talents as students from neighboring communities, but faced far more daunting obstacles. As the first to apply to college, the first to attend and to graduate, and the first to embark on a professional career, they faced, at every stage, uncharted territory.
It takes a unique brand of boldness to envision—and pursue—a future so different from the world that surrounds you. These students possessed courage and drive, but lacked the gateways to achieve their dreams—this struck me as a great injustice. It inspired me to launch a program called College Track—which has, to date, guided and supported thousands of students on their quest to earn college degrees, most of whom are the first in their family to reach this pivotal milestone.
Today in the United States, with few exceptions, where a person is born determines how far he or she can go in life. Among developed countries, the U.S. ranks second to last in economic and social mobility. This is shameful. It wasn't always this way—and it doesn't have to stay this way. This is not how we want our country to work.
This imperative underpins both the moral and practical mission of our work at Emerson Collective: we are idealists with our feet on the ground. Students can't become self-reliant adults unless we give them an excellent education and a pathway cleared of obstacles. Immigrants can't contribute their fullest to our communities, can't live open and free and productive lives, unless they are liberated from the fear of detention and deportation. Complex systemic failures require flexible approaches, new models, and improved public policy. Every day with new ideas, true numbers, and smart practices, we at Emerson Collective do our part to advance these solutions. We do so in partnership with innovative thinkers, entrepreneurs, and organizations — with the broad community of concern and solidarity that we seek to foster.
Our basic belief, as Emerson taught, is that we are doubly obligated: we must rely on ourselves and we must rely on each other. By helping individuals to achieve their dreams, we unleash the full force of the world's most powerful resource: human potential.
Laurene Powell Jobs
January 2, 2017
The Atlantic

Victor Tan Chen

The main source of meaning in American life is a meritocratic competition that makes those who struggle feel inferior.

What is happening to America's white working class?

The group's important, and perhaps decisive, role in this year's presidential election sparked a slew of commentary focused on, on the one hand, its nativism, racism, and sexism, and, on the other, its various economic woes. While there are no simple explanations for the desperation and anger visible in many predominantly white working-class communities, perhaps the most astute and original diagnosis came from the rabbi and activist Michael Lerner, who, in assessing Donald Trump's victory, looked from a broader vantage point than most. Underneath the populist ire, he wrote, was a suffering "rooted in the hidden injuries of class and in the spiritual crisis that the global competitive marketplace generates."

That cuts right to it. The modern economy privileges the well-educated and highly-skilled, while giving them an excuse to denigrate the people at the bottom (both white and nonwhite) as lazy, untalented, uneducated, and unsophisticated. In a society focused on meritocratic, materialistic success, many well-off Americans from across the political spectrum scorn the white working class in particular for holding onto religious superstitions and politically incorrect views, and pity them for working lousy jobs at dollar stores and fast-food restaurants that the better-off rarely set foot in. And when other sources of meaning are hard to come by, those who struggle in the modern economy can lose their sense of self-worth.

Full story:

https://www.theatlantic.com/business/archive/2016/12/spiritual-crisis-modern-economy/511067/
October 6, 2016
"One of the animating causes of this magazine at its founding, in 1857, was the abolition of slavery, (the) Republican Party, and the man who was its standard-bearer in 1860, represented the only reasonable pathway out of the existential crisis then facing the country.

[…]

(Lyndon. B.) Johnson, The Atlantic believed, would bring 'to the vexed problem of civil rights a power of conciliation which will prevent us from stumbling down the road taken by South Africa.'

[…]

And the magazine noted that Goldwater's "preference to let states like Mississippi, Alabama, and Georgia enforce civil rights within their own borders has attracted the allegiance of Governor George Wallace, the Ku Klux Klan, and the John Birchers."

[…]

(Trump) has no record of public service and no qualifications for public office. His affect is that of an infomercial huckster; he traffics in conspiracy theories and racist invective; he is appallingly sexist; he is erratic, secretive, and xenophobic; he expresses admiration for authoritarian rulers, and evinces authoritarian tendencies himself. He is easily goaded, a poor quality for someone seeking control of America's nuclear arsenal. He is an enemy of fact-based discourse; he is ignorant of, and indifferent to, the Constitution; he appears not to read.

If Hillary Clinton were facing Mitt Romney, or John McCain, or George W. Bush, or, for that matter, any of the leading candidates Trump vanquished in the Republican primaries, we would not have contemplated making this endorsement. We believe in American democracy, in which individuals from various parties of different ideological stripes can advance their ideas and compete for the affection of voters. But Trump is not a man of ideas. He is a demagogue, a xenophobe, a sexist, a know-nothing, and a liar. He is spectacularly unfit for office, and voters—the statesmen and thinkers of the ballot box—should act in defense of American democracy and elect his opponent."

---

http://www.theatlantic.com/magazine/archive/2016/11/the-case-for-hillary-clinton-and-against-donald-trump/501161/?utm_source=atltw
September 14, 2015
By Ta-Nehisi Coates
Wherever the law is, crime can be found.
— Aleksandr Solzhenitsyn, 1973
The Atlantic
http://www.theatlantic.com/magazine/archive/2015/10/the-black-family-in-the-age-of-mass-incarceration/403246/