September 25, 2019
---
A lesson from 45 years ago…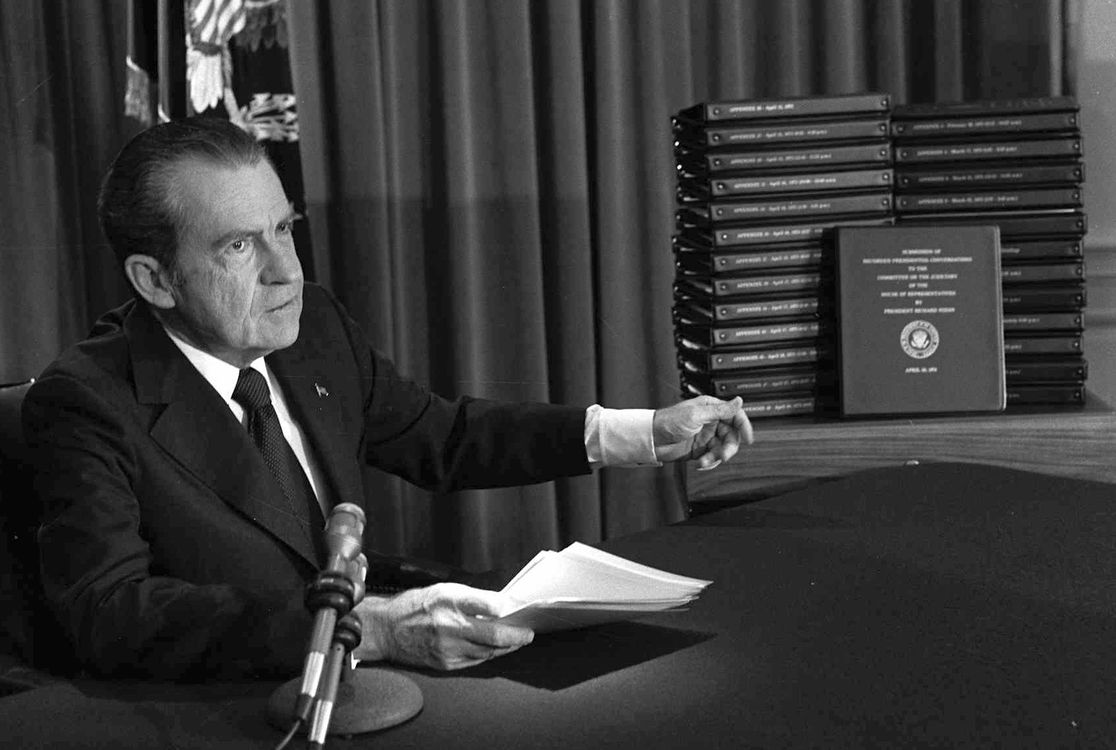 On April 29, 1974, President Richard M. Nixon points to the transcripts of the White House tapes after he announced during a nationally-televised speech that he would turn over the transcripts to House impeachment investigators. Photo: AP
"As a junior aide in President Richard Nixon's White House, I saw congressional oversight and investigation command immensely greater power and respect than it does today," Jonathan C. Rose — special assistant to Nixon from 1971 to 1973, and associate deputy attorney general from 1973 to 1975 — writes in The Atlantic.
"As evidence implicating the White House mounted, the administration displayed no inclination toward negotiation or accommodation with the Senate Watergate Committee. On March 15, 1973, Nixon issued an edict asserting executive privilege, declaring that White House aides and papers were entirely off limits to the committee. If the committee desired to press the issue, the president said, it could pursue a contempt prosecution through the courts.
"Pressed for his reaction, [Senate Watergate Committee Chairman Sam] Ervin said Nixon's position was 'executive poppycock, akin to the divine right of kings.' Ervin declared that his committee had no intention of submitting to the suggested judicial delays, but would instead utilize the Senate's sergeant at arms to arrest any recalcitrant White House aide, bring him to the bar of the Senate for trial, and ultimately compel him to testify.
"As damaging revelations continued to mount and the stigma of cover-up gathered strength, the White House floated trial balloons, offering the Watergate Committee possible closed-door interviews with White House aides. …
"By mid-April 1973, Nixon's resistance to testimony by White House aides had collapsed, and a number of them testified. This testimony disclosed the White House taping system and confirmed the existence of  tapes. Those disclosures ultimately led to Nixon's departure from office."
-AXIOS
September 3, 2019
Please read.
♡
"By then, she was beginning to wonder if this system was broken — if, in fact, a presidential campaign was designed to keep outsiders out, which is the opposite of democracy. "People would say, 'You're out of your depth,' " she said. "I feel I'm in my depth. A deeper conversation is in the depth. I'm the only one who mentioned American foreign policy in Latin America. I'm the only one who mentioned that our health care system is basically a sickness care system. I'm the only one who mentioned what Donald Trump is actually doing, collectivizing fear, and what it will take to override that. So was I out of my depth? Or is the conversation that was being promoted there not chronically superficial? And any conversation which is in fact of depth is made to appear silly?"  
NY TIMES
9.3.19
FEATURE
The Gospel According to Marianne Williamson
Do spirituality and self-help have a political constituency?
he first problem with Marianne Williamson is what do you call her. The other candidates for the Democratic presidential nomination lead with their impressive elected titles: "Governor," "Senator," "Mayor." She's a lot of fancy things herself: a faith leader, a spiritual guide on "The Oprah Winfrey Show," a New Age guru. But she knows that when people use terms like that outside the nearly $10 billion self-help industry, where a person like her is sought, they mean it to dismiss her. So while everyone else has dignified titles of experience to stick onto their lapels and on chyrons for the debates (all except Andrew Yang, who is a "former tech executive," but it doesn't really matter what he's called because he's running on a platform of giving each American $1,000 per month for life), she settled on, simply, "author." Author is accurate, if not the whole story.
Williamson is also a politician now, and on the weekend after Independence Day, she was doing what politicians do, which is visit citizens gathered at people's homes (and on peach farms and at ice-cream socials) and make a case to the American people, one group of interested voters at a time. There she stood, tiny and regal, on the breathtaking porch of someone else's breathtaking home in New Castle, N.H., right on the river, giving a civics lesson not about her specific policies; those were all on her website, under the label "The Issues Aren't Always the Issue." She was talking about how she could beat Donald Trump.
She told the crowd the story of David and Goliath, about how she's going to be like David and defeat Trump with just a slingshot. "We're going to get him right between the eyes," she said. "David got Goliath in his third eye, where he wasn't prepared — where he had no defense." The third eye, she explained, was Trump's ego and his inability to see clearly. It was his instinct to divide the country along the old fault lines of hatred and greed and apathy toward suffering. The slingshot, which was small but mighty, was, of course, love. Love was her entire platform. She believed that if we were to look at all the country's problems through the prism of love, we could undo everything from poverty to climate change to the immigration crisis.
Everyone talked about the issues. She wanted to talk about how we could have prevented these issues — how we could undo them if we got to the root of all these problems. "People who are so depressed because they don't know how they're going to ever get out of this college loan. People who were so depressed because they don't know what's going to happen if they get sick. People who are so depressed because they don't know how they're going to send their kids to college. People who are so depressed because they're so afraid that their child is going to get picked up by the policemen and there's absolutely nothing they can do no matter how much they try to raise a good kid and even have a good kid. People working with refugees, people working with immigrants, veterans, traumatized children, drug addicts. Everything I just mentioned has the fingerprints of public policy — irresponsible, reckless public policy."
She has a patrician, mid-Atlantic accent that she has taped over her Texan accent — she was raised in Houston. She talks so fast, like a movie star from the '40s, no hesitations, as if the thoughts came to her fully formed with built-in metaphors, or sometimes just as straight-up metaphors in which the actual is never fully explained. ("Am I pushing the river? Am I going with the flow? Am I trying to make something happen, or am I in some way being pushed from behind?") She is prone to exasperated explosions of unassailable logic ("The best car mechanic doesn't necessarily know the road to Milwaukee!"). A thing she loves to say is: "I'm not saying anything you don't already know." This is the self-help magic ne plus ultra, a spoken thing that rings inside your blood like the truth, a thing you knew all along, like ruby slippers you were wearing the whole time.
She finished her speech in New Hampshire to great applause and asked for questions, but nobody wanted to know how "a politics of love," as she called it, would handle, say, President Vladimir Putin's annexing Crimea, or how it would prevent a mass shooting, which were things she had thought about deeply and had specific and elaborate plans for. They didn't want to know about her Department of Children and Youth or her Department of Peace. No, they wanted self-help. A woman raised her hand and said she didn't know what to do about her trauma and her rage these days — how she couldn't find forgiveness for the people who voted for Trump, even though those people weren't exactly asking for it. "It's like I've been infected," the woman said. "How do I manage that?"
Williamson told her she has no time for people traumatized by the election. She asked the crowd to consider the trauma of the suffragists, who were force-fed through tubes when they were put into jails. She asked them to consider the trauma of the black protesters who took their lives in their hands when they marched in Selma. And she has even less time for people who think that anger is a productive emotion. Anger, she has said, is the white sugar of activism. It's a good rush, but it doesn't provide nourishment.
"Your personal anger depletes you," she told the woman, her X-Acto-knife jaw jutted outward and her head high. "Trump isn't the problem. The system of complacency is the problem." The problem was apathy toward the entire revolutionary nature of this country — the radicalism of the Constitution, the power that it gave every single American. "Don't hate Trump," she beseeched the woman. "Love democracy."
Self-help made Marianne Williamson, who is 67, famous. It was the number of selves she had helped in her 38-year career, and after selling over three million books, that made her feel she was qualified to take on the world's problems. Rather than solving suffering one theater full of self-selecting audience members at a time, she could focus on alleviating suffering on a much larger scale. She was not concerned by the scoffings about her inexperience. Every time I heard her speak, she said: "I challenge the idea that only people whose careers have been entrenched for decades in the limitations of the mind-set that drove us into this ditch are the only ones we should consider qualified to take us out of the ditch."
June 14, 2019
NYTIMES
WASHINGTON — Extensive work was well underway on a new $20 bill bearing the image of Harriet Tubman when Treasury Secretary Steven Mnuchin announced last month that the design of the note would be delayed for technical reasons by six years and might not include the former slave and abolitionist.
Many Americans were deeply disappointed with the delay of the bill, which was to be the first to bear the face of an African-American. The change would push completion of the imagery past DT's time in office, even if he wins a second term, stirring speculation that Mr. Trump had intervened to keep his favorite president, Andrew Jackson, a fellow populist, on the front of the note.
But Mr. Mnuchin, testifying before Congress, said new security features  under development made the 2020 design deadline set by the Obama administration impossible to meet, so he punted Tubman's fate to a future Treasury secretary.
In fact, work on the new $20 note began before DT took office, and the basic design already on paper most likely could have satisfied the goal of unveiling a note bearing Tubman's likeness on next year's centennial of the 19th Amendment, which granted women the right to vote.
An image of a new $20 bill, produced by the Bureau of Engraving and Printing and obtained by The New York Times from a former Treasury Department official, depicts Tubman in a dark coat with a wide collar and a white scarf.
That preliminary design was completed in late 2016.
A spokeswoman for the bureau, Lydia Washington, confirmed that preliminary designs of the new note were created as part of research that was done after Jacob J. Lew, President Barack Obama's final Treasury secretary, proposed the idea of a Tubman bill.
The development of the note did not stop there.
A current employee of the bureau, who asked not to be named because of the sensitivity of the matter, personally viewed a metal engraving plate and a digital image of a Tubman $20 bill while it was being reviewed by engravers and Secret Service officials as recently as May 2018. This person said that the design appeared to be far along in the process.
Within the bureau, this person said, there was a sense of excitement and pride about the new $20 note.
But the Treasury Department, which oversees the engraving bureau, decided that a new $20 bill would not be made public next year. Current and former department officials say Mr. Mnuchin chose the delay to avoid the possibility that Mr. Trump would cancel the plan outright and create even more controversy.
In an interview last week, Mr. Mnuchin denied that the reasons for the delay were anything but technical.
"Let me assure you, this speculation that we've slowed down the process is just not the case," Mr. Mnuchin said, speaking on the sidelines of the G-20 finance ministers meeting in Japan.
The Treasury secretary reiterated that security features drive the change of the currency and rejected the notion that political interference was at play. He declined to say if he believed his predecessor had tried to politicize the currency.
Interagency, including the Secret Service and others and B.E.P., that are all career officials that are focused on this," he said, referring to the Bureau of Engraving and Printing. "They're working as fast as they can."
Monica Crowley, a spokeswoman for Mr. Mnuchin, added that the release into circulation of the new $20 note remained on schedule with the bureau's original timeline of 2030. She did not, however, say that the bill would feature Tubman.
"The scheduled release (printing) of the $20 bill is on a timetable consistent with the previous administration," she said in a statement.
But building the security features of a new note before designing its images struck some as curious. Larry E. Rolufs, a former director of the Bureau of Engraving and Printing, said that because the security features of a new note are embedded in the imagery, they normally would be created simultaneously.
"It can be done at the same time," said Mr. Rolufs, who led the bureau from 1995 to 1997. "You want to work them together."
The process of developing American currency is painstaking, done by engravers who spend a decade training as apprentices. People familiar with the process say that engravers spend months working literally upside down and backward carving the portraits of historical figures into the steel plates that eventually help create cash. Often, multiple engravers will attempt different versions of the portraits, usually based on paintings or photographs, and ultimately, the Treasury secretary chooses which one will appear on a note.
Mr. Rolufs said that because of the complexity of creating new currency, circulating a new note design by next year was ambitious. He also acknowledged that making major changes to the money is an invitation for backlash.
"For the secretary to change the design of the notes takes political courage," he said. "The American people don't like their currency messed with."
As a presidential candidate, Mr. Trump called the decision to replace Jackson, who was a slave owner, with Tubman "pure political correctness." An overhaul of the Treasury Department's website after Mr. Trump took office removed any trace of the Obama administration's plans to change the currency, signaling that the plan might be halted.
Within Mr. Trump's Treasury Department, some officials complained that Mr. Lew had politicized the currency with the plan and that the process of selecting Tubman, which included an online poll among other forms of feedback, was not rigorous or reflective of the country's desires.
The uncertainty has renewed interest in the matter. This week, Gov. Larry Hogan of Maryland, where Tubman was born, wrote a letter to Mr. Mnuchin urging him to find a way to speed up the process.
"I hope that you'll reconsider your decision and instead join our efforts to promptly memorialize Tubman's life and many achievements," wrote Mr. Hogan, a Republican.
And last week, a group of House Democrats demanded that the Treasury secretary provide specific information about the security concerns that were impeding the currency redesign.
At the Bureau of Engraving and Printing, which offers tours and an exhibit on the history of the currency, some visitors said they preferred tradition, while others were seeking change.
"For me, it's not important enough to spend the money to change it," said Jeff Dunyon, who was visiting Washington from Utah this week. "There are other ways to honor her."
Charnay Gima, a tourist from Hawaii, had just finished a tour when she pulled aside a guide to ask a question that was bothering her. She wanted to know what became of the plan to make Tubman the face of the $20 bill.
To Ms. Gima's dismay, there was no sign of Tubman in any of the bureau's exhibits. The plan was scrapped, she was told, for political reasons.
"It's kind of sad," said Ms. Gima, who is black. "I was really looking forward to it because it was finally someone of color on the bill who paved the way for other people."
May 25, 2015
http://lens.blogs.nytimes.com/2015/05/22/when-every-day-is-memorial-day/?_r=0
April 16, 2015
NYTIMES
'Use of the devices among middle- and high school students tripled from 2013 to 2014, according to federal data released on Thursday, bringing the share of high school students who use them to 13 percent — more than smoke traditional cigarettes. The sharp rise, together with a substantial increase in the use of hookah pipes, led to 400,000 additional young people using a tobacco product in 2014…'
http://www.nytimes.com/2015/04/17/health/use-of-e-cigarettes-rises-sharply-among-teenagers-report-says.html?smid=tw-nytimeshealth&seid=auto&_r=0